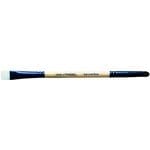 Eye Liner/Brow Brush
$18.00
Description
A double-ended brush that makes lining and smudging so easy.
Made from Toray nylon on one end and a sponge tip on the other
Use with our Cream To Powder Eyeliners
Also use to shape eyebrows with shadow. Flip over to use sponge tip for smudging
Available in our Professional Brush Set
jane iredale logo, text, graphics and photo images:
Copyright © 2004-2011 by Iredale Mineral Cosmetics, Ltd.
All rights reserved. Used by permission.