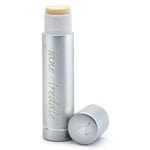 LIPDRINK™ SPF 15 LIP BALM- Sheer
$17.00
Description
This colorless lip balm really is a drink for the lips. 
Contains no petroleum-derived products that dry out the lips. People who are regular users of petroleum-based lip balms are on a continual drying cycle – the more they use the drier their lips become.
Provides Broad Spectrum SPF 15 and UVA P++ protection
Carrot seed oil to smooth, soften and soothe
Avodaco oil to protect and moisturize
Coffee seed, Blackberry and green tea leaf extracts provide antioxidant benefits
Lemon peel oil for a delicious fresh taste
jane iredale logo, text, graphics and photo images:Copyright © 2004-2011 by Iredale Mineral Cosmetics, Ltd.All rights reserved. Used by permission.