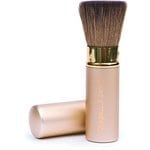 The Retractable Handi™
$50.00
Description
A brush with shorter, firmer bristles than the Eye Shader or Deluxe Shader.
Ideal for laying down and compacting eye shadows onto flat surfaces or specific areas
May be used to apply shimmer or highlights to the center of the lid or the inner most corner of the eye next to the nose
Also used to get a clean, precise highlighting along the brow bone
jane iredale logo, text, graphics and photo images:
Copyright © 2004-2011 by Iredale Mineral Cosmetics, Ltd.
All rights reserved. Used by permission.