Kybella is a non-human and non-animal formulation of deoxycholic acid, a naturally occurring molecule in the body that aids in the breakdown and absorption of dietary fat. When injected into subcutaneous fat, Kybella causes the destruction of fat cells. Once destroyed, those cells cannot store or accumulate fat. Kybella is the first and only FDA approved injectable drug that contours and improves the appearance of submittal fullness dues to submittal fat (double chin).
Kybella is indicated for the improvement in the appearance of submental fullness in adults. The safe and effective use of Kybella for the treatment of subcutaneous fat outside the submittal region has not been established and is not recommended.
Reduces fat under the chin
Actual patients. Results may vary.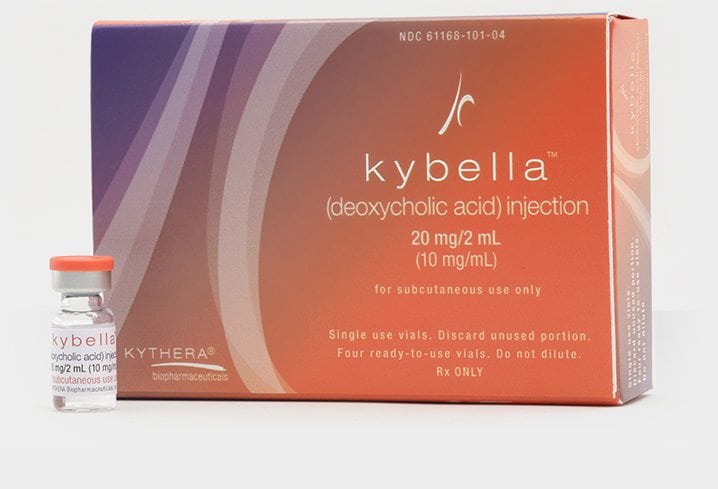 Pre Treatment
Discontinue acetaminophen, Naproxen Sodium, Ibuprofen, Aspirin containing products, etc for 10 days prior to your treatment.
Discontinue St Johns Wort, Vitamin E, Fish Oil, and Garlic supplements for 3 days prior to treatment.
Arrive with no makeup or products on your neck and chin area.
If you are prone to bruising or bleeding, you may take Arnica pills starting 3 days prior to treatment (3-5 pills, 3 times a day.) You can find them at Whole Foods and supplement stores.
Men may shave the day of your treatment, however, not necessary.
Post Treatment
Your treatment involves multiple injections designed to induce an inflammatory reaction in the area of treatment thus commonly you can expect the following:
Pain described as mild in 75% of individuals that will peak the evening after treatment once the numbing medication wears off. Pain is most commonly described as "tender" in 4 hours (on average this can last 7 days). However, some patients may experience complete numbness for 7-14 days.
Swelling/Induration (a hard or heavy feeling, like a "hockey puck") is expected, and on average can last 10-14 days. However, up to 20% of those treated can last up to 30 days.
Bruising or Hematoma at the injection sites can be common and would be expected to resolve as any other bruise you may have had in the past.
Numbness in the treated area, as mentioned earlier, is common and can take up to 30 days to resolve.
Approximately 1.9% of those treated to date have experienced some difficulty swallowing, which is attributable to a sensation of fullness in the treated area from the volume of liquid injected and/or swelling/edema. On average, this is resolved in 3-5 days for most individuals.
Should you experience asymmetry in your smile notify VociMedSpa as this may represent a transient paralysis of the Marginal Mandibular Nerve. In this clinical trials, all cases have resolved without additional interventions needed with a median duration of 44 days (range 1-298 days).
Additional comfort post-treatment can be obtained with ice to the treated area for 20 minutes every 2-3 hours.
Continued use of Arnica pills for 3-5 days post-treatment can be helpful if bruising is present.
May restart any supplements stopped prior to treatment after 3 days.
After treatment, you may experience swelling, numbness, redness and slight soreness. These side effects are usually temporary and often resolve on their own. Although you may be excited to see results right away, it's important to be patient. Allow your body time to process the fat cleared from the treatment area after each visit. To reach your aesthetic goals, it usually takes an average of three treatments.
Earn savings and rewards on KYBELLA from Brilliant Distinctions Program.
Earn savings and rewards on KYBELLA from Brilliant Distinctions Program.